North Industries - Secure Gaming Services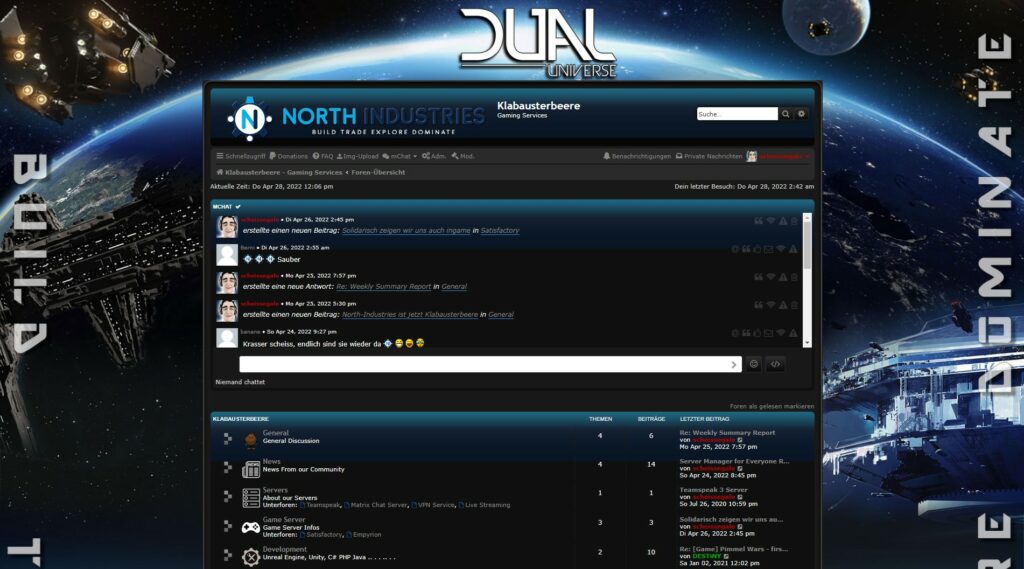 Designed to fit the theme of the Game Dual Universe: Link
The page is a description of a vibrant gaming community that focuses on providing secure and immersive gaming experiences. The community offers an array of free gaming services that aim to foster a sense of togetherness among players. It emphasizes anonymity and encryption as key features to ensure the privacy and protection of its users.
The main services offered are:
LIVE STREAMING: The community provides a secure live streaming service via OBS that allows gamers to share their gaming experiences with friends without compromising privacy. Users can stream their videos directly to friends, showcasing their skills and conquering new challenges.

N-WATCH: N-Watch is a synchronized viewing experience that lets users watch gaming videos together with their friends privately and anonymously. Whether it's gaming highlights, Let's Play videos, or esports tournaments, users can enjoy thrilling content in a secure environment.

N-MEET: N-Meet facilitates face-to-face interactions through private, anonymous, and encrypted webcam meetings or screen sharing sessions. Gamers can strategize, share progress, or simply catch up with friends in a safe and confidential environment.

FORUM: The community has a dedicated forum where users can engage in passionate discussions about games, gaming culture, and more. It provides a space for gamers to share insights, exchange ideas, and connect with like-minded individuals.

N-CHAT: N-Chat is a cross-platform instant messaging application that ensures private and secure communication between gaming companions. It offers state-of-the-art encryption to protect conversations from unauthorized access.

TEAMSPEAK: The community's TeamSpeak server provides encrypted voice communication for strategizing and coordinating with teammates during intense battles. It offers advanced features such as ranking systems and music bots.

GAME SERVERS: The community hosts game servers for popular multiplayer games like Empyrion – Galactic Survival, Satisfactory, Factorio, GTA-V, and ARK. These servers promise smooth gameplay and opportunities to forge alliances and achieve shared victories.
Overall, the community is focused on providing a safe and enjoyable gaming environment where gamers can connect, share experiences, and create lasting memories together. Privacy and data security are prioritized, allowing users to fully immerse themselves in the joy of gaming without worries.